E-commerce • Shopify
How To Hire An Ecommerce Developer In 8 Steps
Are you looking to expand your brand into the world of ecommerce? A virtual storefront is one of the best ways to connect with your customers.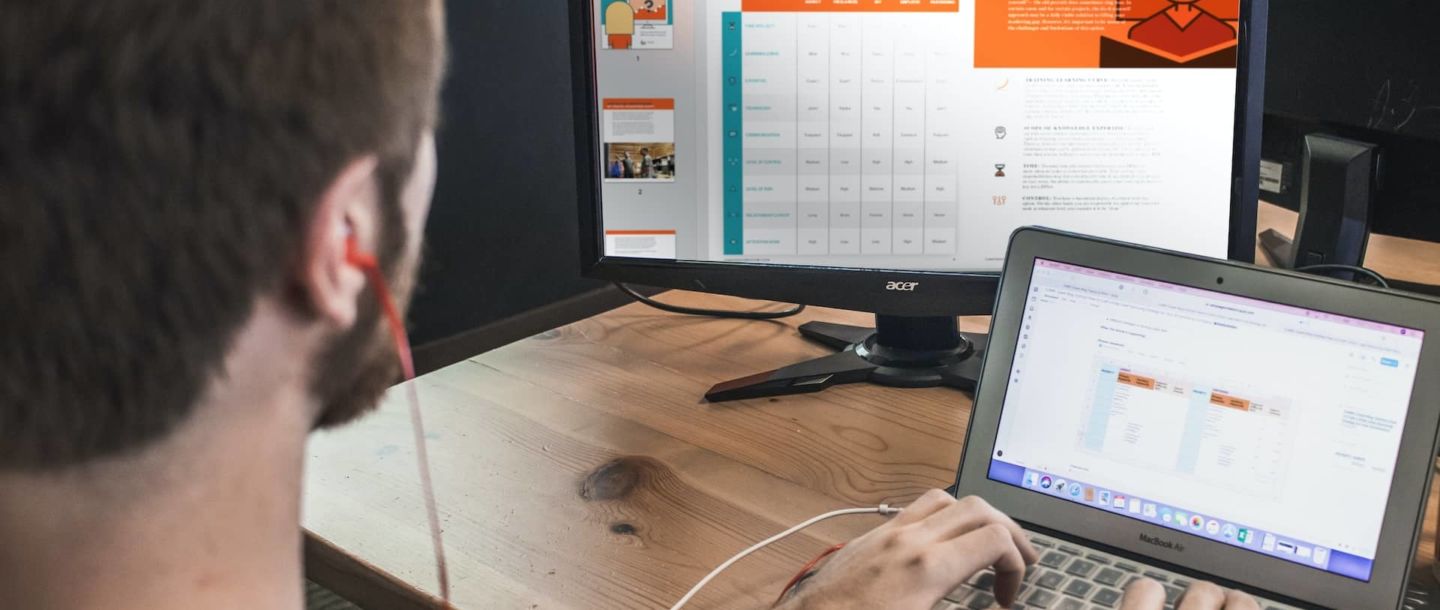 For many, launching this aspect of their enterprise ignites new growth and creates even greater success than they have experienced before as a small business owner. In order to reach that level of success, many turn to hiring an ecommerce developer to help make their online store a reality.
Before working with one of these professionals, you might want to learn a bit more about ecommerce website development. This knowledge can help you manage your expectations for your own project while ensuring that nothing is overlooked. From there, you're likely wondering how to hire an ecommerce developer and how to find one. We'll explore both queries in this post and inform you of the benefits of working with one of these professionals.
What is an Ecommerce Developer?
An ecommerce developer has all the same skills as a web developer but with the additional capabilities to put together an online store. They might have extensive knowledge in one or various platforms, like Shopify or WooCommerce, and work on the technical aspects of the site. This can include ensuring proper performance, enhancing UX/UI, and adding security for payment options. 
They tend to work more closely with their clients as these websites reflect a brand and are potentially the sole focus of a business. As a result, this virtual storefront needs to meet the company's needs as an in-person shop would.
Do I Need to hire an Ecommerce Developer?
If you want to launch an online store in any capacity, an ecommerce developer can be an invaluable resource and asset to your business. This project is a significant undertaking and will require many hours spread out over months of work. Even if you are familiar with building a website, an online store has a bit of a different structure. It requires more features than an average website which means more time spent in the backend.
Working with a knowledgeable developer, you can achieve your vision and ensure a seamless customer experience that will improve your business. Otherwise, you might be left with delays, functionality issues, or an incomplete site.
8 Steps to Follow When You Hire an Ecommerce Developer
How you choose to hire an ecommerce developer may differ from others based on your unique needs. The following is a list of steps to help guide you through the process and ensure the right fit for your project.
Step 1: Choose Your Platform
There are many platforms available to build your ecommerce site on. You might choose one based on pricing, features, how customizable it is, or the ability to scale it as needed. A little research will provide the insights you need to decide on the right tool for you.
It is also worth noting that this choice will dictate your pool of potential developers. Often, these professionals focus their expertise on one platform to serve their clients best. As a result, you likely wouldn't choose to work with a Squarespace developer if you intend to use Shopify. While the platforms are both used for online stores, their details and features differ enough that the ecommerce developer's skills might not be transferable.
Step 2: Determine Your Goals
Launching an ecommerce site is a massive step for your business. Perhaps you have been selling through word of mouth or social media to grow the foundation of your enterprise. On the other hand, you might be beginning a new venture and want to have your site ready to go in tandem with the start of it. Depending on the stage you are at, you might have different goals for your online storefront. Set out what these are ahead of time. Some of them might be to:
Engage more with customers
Grow your social media presence
Realign your marketing efforts
Launch a new product
Reach a larger audience
Sell more items
Mapping out these specifics can help ensure you are on the right track throughout your ecommerce website development. It will also give your developer a better perspective of what you are hoping to accomplish so they can align their efforts and potential suggestions accordingly.
Step 3: Put Together a Plan
Once you have decided on the platform you'll be using and the goals you have, it's time to spell out a plan for the overall project. These can be loose details, after all, if you are hiring an ecommerce developer, they could have insights or ideas that shift the building process.
This plan should look at the size and scope of the project. What features do you want to be included? Is there something competitors are doing that you want to mimic or avoid? How important is UX/UI, and how much control do you want to have over design? All of these factors play a major role in the timeline of the site build, which should also be a part of the plan. Be realistic about your launch date, and ensure you consider what you are willing to be flexible on.
Step 4: Set a Budget
Although your ecommerce site is meant to make you money, you'll first have to determine how much you are willing to put into it for that to happen. Ecommerce developers often put together their fees or rates based on a few things. These can include:
Their skills and experience
The size of the project
The timeline of the build
The features to be implemented
Budgeting ahead of time ensures that you can afford to build the site you need, not necessarily the site you want. Over time you can add to the features and include enhancements for UX/UI, but these can be expensive if you are starting your ecommerce website from the ground up. Compare similar project scales to the one you are looking to have built, so you have a ballpark idea of the cost. Then, work with developers within your budget to ensure you stay on track and in the black.
Step 5: Evaluate Portfolios and CVs
One of the greatest ways to determine the right ecommerce developer for your site is to look at their past work. This will give you an idea of the size and scope of the projects they have worked on and a feel for them as a person you may want to work with. Their online portfolio should clearly explain their skills, showcase sites they are proud of, and include their abilities and specializations, whether that be with a particular CMS or something more specific, like B2B sites.
In addition, their resume or CV will explain all their relevant credentials and accreditations in their field. Perhaps you prefer someone with more than five years of experience or who has a university degree. You'll discover which ecommerce developer fits your requirements based on what is included in this important document.
Step 6: The Interview Process
After narrowing your search to a few ecommerce developers you like on paper, it's time to get to know them a little better. Setting up a meeting to interview them and discuss the project will help you understand if this is someone you want to work with, who you feel confident can execute your vision.
This step is an opportunity to build your knowledge of their skills and discuss any specifics you would like to gain further information. You may want to put together a few interview questions or a test project to help you better gauge the skillset and knowledge this professional has.
Step 7: Outlining the Project
Once you've chosen the right ecommerce developer, you can get started working together to outline the project. Present them with your initial plan, so they have a good idea of what you are hoping for from your online storefront. Ensure that your timeline is doable for them, or readjust as necessary. In addition, determine the expenses and fees upfront so you can allocate funds for payment.
From there, your developer should be able to take all the information and put together a comprehensive blueprint for each stage of the process. You can go through this together once it is complete to ensure you are both on the same page and can manage expectations as the project progresses.
Step 8: Lines of Communication
Before the build truly takes off, take the time to develop a communication system with your ecommerce developer. The work they do is technical and in-depth, so you'll want to make a schedule with regular touchpoints to ensure things are progressing as you want them to.
Video calls are likely the best option because your developer can easily share their screen and explain each update. You could also call or text them if you prefer more frequent check-ins or if you or they have any questions that require immediate attention.
Benefits of Hiring an Ecommerce Developer
This post has touched on a few key reasons why hiring an ecommerce developer benefits your business and online storefront. Here are the top considerations for working with one of these professionals:
They save you time. No need for you to guess or research how to make your site beautiful and functional or learn code that doesn't stick.
Improved UX/UI. Ecommerce web developers specialize in creating sites that are optimized for users and can make suggestions to improve or build on your ideas.
Knowledge of best practices. An experienced developer knows what makes a website function well for users, but also regarding SEO.
The latest features. As new tools and technologies become available, ecommerce developers stay agile and learn about these features, which they can suggest to increase the functionality or traffic to your site.
Ongoing support. If something happens with your site or you are looking to scale up, an ecommerce developer can easily step in and lend a hand.
How to Find and Hire Ecommerce Developer for Your Project
Now that you know the process regarding how to hire an ecommerce developer, you might be wondering where you can find one. At Goodie Website, we connect freelance developers with individuals and businesses looking to grow their online presence. You'll find knowledgeable, experienced, and friendly ecommerce developers through our webpage. You can specify your desired platform. For example, if you want to hire an expert in WooCommerce development, you can specify this and have someone dedicated to your vision from start to finish. Once you open your account, there are only a few short steps before you can start outlining your project and working with a professional.
Ready to get connected with an ecommerce developer that suits your needs? Reach out to us today.